The Heth Academic Center is an inter-disciplinary research center, designed to promote knowledge in the fields of competition and regulation as tools to achieve markets' efficiency and to maximize public welfare. The center focuses on Israeli markets in order to analyze their problems and to make suggestions to improve their regulation. The Center acts in conjunction with the Schools of Law, Economy and Business Administration, to promote academic research, teaching students, training regulation's managers, and initiating conferences on a myriad of relevant issues interfacing Law and Economics.
Director:
Justice (ret.) Dr. Iris Soroker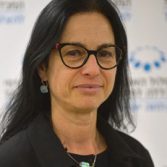 Justice (ret.) Dr. Iris Soroker, the director of The Heth Academic Center for Research of Competition and Regulation, is a graduate of The Hebrew University of Jerusalem. She Is a former magistrates court judge.
Her research and teaching areas are commercial and contract law, anti-trust and intellectual property, competition and regulation