Scholarship and human interaction, books and people are the conditions of possibility for relevant knowledge and understanding. The COLLMAN's library reflects this understanding. It is the center for both intellectual and social life on campus. The library features a rich collection and offers professional service, supported by new technology and a user-friendly environment. The combination of open areas for group study, closed areas for quiet individual study and contemplation, debate rooms, an informal beanbag room for rest and relaxation and a free coffee area, makes our library a home for collaboration, inspiration and academic success.
Director:
Ms. Lia Fein-Disatnik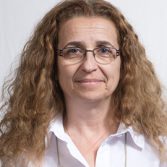 Lia Fein-Disatnik, Academic Secretary and Director of the central library, is a graduate of Tel Aviv University and of The Hebrew University of Jerusalem.