About
Established in 1994, he School of Behavioral Sciences offers a unique blend of robust theoretical studies in psychology, sociology and anthropology, with unparalleled practical field experience and community engagement.
The school offers graduate programs in behavioral sciences and psychology as well as postgraduate programs in family studies and in organizational development and HR in a variety of tracks. The school cooperates with organizations and companies in a vast framework for student's volunteer clinical work and is accredited to offer graduates with professional certifications in family counseling and organizational development counseling
Dean
Prof. Tamar Almor, Dean of the School of Behavioral Sciences & Psychology, is a graduate of Tel Aviv University's School of social work and The Recanati School of Business. She has been a visiting professor at Temple University Singapore branch, University of Amsterdam, and Sotheby's Institute of Art. She established and ran the Department of Strategy and Entrepreneurship at The COLLMAN's School of Business Administration,  where she also served as vice dean.
Her recent joint publications Maturing born globals and their acquisitive behavior, and Encouraging environmental sustainability through gender: A micro‐foundational approach using linguistic gender marking, have been published in International Business Review and Journal of Organizational Behavior.
Prof. Tamar Almor CV
Vision
In the 21st century, focus is placed on the individual within a society, while, at the same time, examining the meaning of this society. The School for Behavioral Sciences and Psychology studies the role of the individual, whether by itself, as part of a family, a group, an organization or as part of society at large.
We offer studies that are based on scientific knowledge grounded in sociology, anthropology and psychology. By combining these three schools of thought and research methodologies, we allow our undergraduate as well as graduate students to develop a better understanding of their own roles in families, in groups and in society. We further provide them with insights as well as tools to create change at the individual, the group, and the societal level. Our studies are process-oriented and provide our students not only with knowledge, but also with mentorship and individual training.
Our unique interdisciplinary, "hands on" and individually supervised course of studies attracts many students from Israel's periphery, who are in need of and benefit from personal mentoring.
Undergraduate Programs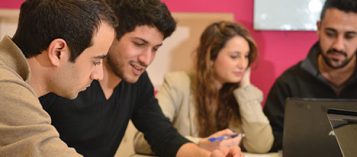 B.A. IN BEHAVIORAL SCIENCES
The program exposes students to the diverse and multidisciplinary aspects of psychology and human behavior, awareness of social order and organization, as well as an in-depth understanding of cultural concepts in a wide field of interests, including HR management, family studies, organizational consulting and development etc. The program also provides students with a broad basis for continuing their education towards higher degrees in social sciences as well as significant practical experience as volunteers at therapeutic institutes and emotional support centers for different populations. This fieldwork experience provides an important advantage when joining the workforce or applying for graduate studies.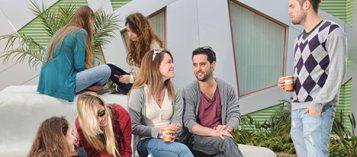 B.A. IN MANAGEMENT AND HUMAN RESOURCES
The program trains students for the dynamic world and changing demands of the human resources management. Graduates of this program, benefit from a combination of theoretical knowledge and as well as professional certification accredited by the Israeli Association for Management, Development and Human Resources Research.
The program consists of basic courses in sociology, psychology, marketing, organizational behavior, labor relations and practical workshops and offers four professional tracks: training and personnel development, recruitment and hiring, career management and HR team management. Each track provides professional certificates by collaborating with major organizations in the industry.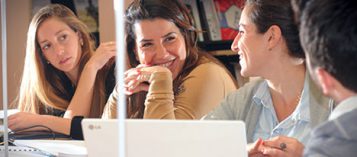 B.A. IN PSYCHOLOGY
The program offers foundational, experimental and research background for different branches of psychology, qualifying students for graduate degrees in Psychology and/or joining the workforce as professionals with theoretical and clinical know-how in psychology combined with skills acquired in joint courses with the school of management and school of media studies.
Graduate Programs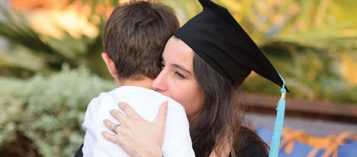 M.A. IN FAMILY STUDIES
Most families are not always happy. This program is designed to provide its students with the knowledge and skills required to counsel families in times of difficulties. It combines advanced academic studies with expertise in family studies and with training as a family counselor. The program's graduates are certified as family counselors.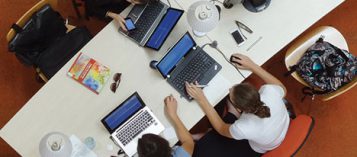 M.A. IN ORGANIZATIONAL CONSULTING & DEVELOPMENT
The Program, founded in 2004, was the first of its kind in Israel. It is characterized by an innovative and unique approach that conceives of the organizational consultant as a function helping organizations preserve their humanity in a complex technological world.
The program encourages students to think strategically, and provides them with skills to assimilate new knowledge and methods in workplaces. The curriculum includes basic core subjects such as Organizational Sociology, Organizational Psychology, Organizational Diagnosis and Change, as well as advanced workshops and seminars on Strategy Design, Mergers and Acquisitions, Leadership and Executive Development, Organizational Culture, Team Development, Career Management, Ethics and Professional conflicts in the practice of organizational consulting and practicum studies.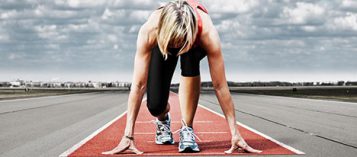 M.A. IN SPORTS, EFFORT AND PHYSICAL TRAINING PSYCHOLOGY
This program, which will start in the academic year 2018/19, heralds Israel's first master's degree in the psychology of sports, effort and physical training. Its objective is to provide qualified professionals to the public and private sport sectors in Israel. The program is coordinated with the head psychologist of the Ministry of Health in establishing a psychology of sports formal specialization in the Israeli Psychological Association.
Graduates of the MA program will be fully certified to tend to and assist athletes in various associations and teams in all personal and group sports. Sports psychologists will also service schools and youth clubs, the IDF and private clientele, providing the amateur and professional athlete with the tools to create the ideal mental climate for enabling their best physical abilities and determination to fulfill their goals and advance the development, health and well-being of the individual during his life through fitness and sports activities.